Book Market Expected to Reach $159.3 Billion by 2028 Based on Easy Accessibility of Paperbacks for Disabled and Non-English Speaking Groups | Grand View Research, Inc.

According to a new report from Grand View Research, the new adult genre has taken hold in the book industry and is expected to grow even more in the coming years.
Overview of the book industry
The global book market size was valued at USD 132.1 billion in 2020 and is projected to reach USD 159.3 billion by 2028, growing at a compound annual growth rate (CAGR) of 2.4% during the period forecast.
Technological innovations in the industry, with the advent of audio and video e-books, are attracting consumers in all regions. The easy accessibility of paperback copies for disabled and non-English speaking groups of people is one of the major factors driving the growth of the market.
Gather more insights into the market drivers, restraints, and growth of the Global book market
The publishing landscape is constantly changing with the emergence of new categories that capture the attention of consumers. The new adult genre has gained a foothold in the industry and is expected to grow further in the years to come. As novels and short stories decline in popularity, another genre has gained ground, more than offsetting the drop in fiction book sales. According to Penguin Random House, revenue from non-fiction titles soared nearly 30% in 2017, over the previous five years. Additionally, poetry reading has grown in popularity among American adults, increasing 76% from 2012 to 2017.
Rising consumer spending, coupled with an increased focus on self-development, is driving the book market. Consumers today are more likely to spend on the hobbies they enjoy and their interests. In addition, more importance is given to leisure activities, which leads to an increase in the number of readers. This has led to greater momentum in the market. With an increase in purchasing power, consumers are more willing to spend on various products and services based on their hobbies and interests.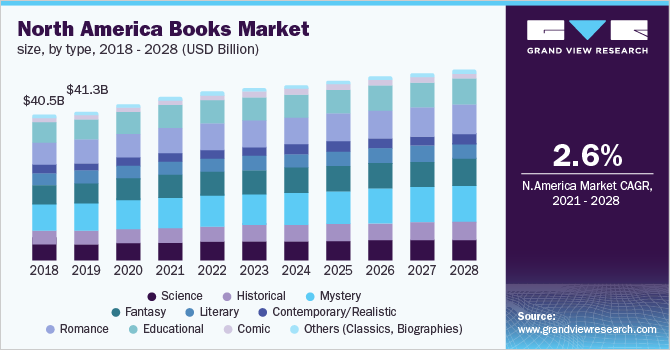 The impact of COVID-19 on different industries has varied widely. However, book publishers, on the whole, performed well in 2020, escaping many of the COVID-inflicted disruptions faced by several other industries. According to a study by Springer Nature Switzerland AG, in February 2021, overall book retail sales changed only slightly in 2020; however, there were huge fluctuations from month to month. April sales fell 14.7% from March, but were followed by an 18.3% jump in May. Retail sales in November fell 1.1% from October, but rose 4.1% from November 2019. Additionally, trade sales in 2020 were almost uniformly ahead of 2019, and in several categories, unit sales increased by more than 20% until mid-December.
The books have gone through huge changes throughout their history. From papyrus rolls to the introduction of e-books with the advent of digital media and new technologies, the book market has adapted in various forms such as e-books and audio books. So, since reading has moved to screens, it has expanded the scope of opportunities for publishers as well as readers in the marketplace.
Segmentation of the book market
Based on Type Insights, the market is segmented into Science, Historical, Mystery, Fantasy, Literary, Contemporary/Realistic, Romantic, Educational, Comedy, and Others (Classics, Biographies).
The mystery book segment dominated the book market and accounted for the largest revenue share of 16.7% in 2020. The dominance of this segment can be attributed to the trend that crime/mystery and thriller are l one of the most popular categories of fiction books in the world, as readers flock to buy books in this genre.
Science books are generally a work of non-fiction and can relate to a scientific or non-scientific person. Authors of popular science books have always been well-known scientists, such as Charles Darwin, Albert Einstein, Carl Sagan, Richard Dawkins, Bill Nye, and Neil deGrasse Tyson. Women scientists and science writers such as Rachel Carson and Jane Good have also had a significant impact on their respective fields and through their writings.
Based on the distribution channel information, the market is segmented into online, local bookstores, retail stores, and specialty stores.
The local bookstore segment dominated the book market and accounted for the largest revenue share of 50.3% in 2020.
Retail stores offer a variety of utilitarian consumer goods. Books are usually sold in these stores to promote a new book or a new publishing brand. The retail store concept encompasses department stores, convenience stores, and supermarkets, where every day, regardless of a weekend or weekday, there is a huge footfall of consumers.
New authors or newly launched books are usually placed in these stores as part of the promotion strategy.
The online segment has generated revenues of USD 36.9 billion and by 2028 it is estimated to reach USD 46.9 billion. Amazon entered the e-commerce business as an online bookstore in July 1995, as the very first online bookstore.
Based on Format Insights, market is segmented into print, e-book and audiobooks
The hard copy segment dominated the book market and held the largest revenue share of 78.9% in 2020 due to consumers wanting to reduce screen time; this includes young and millennial readers as well as parents who want to limit the time their children spend in front of a screen.
The eBooks segment is expected to grow at a CAGR of 3.0% from 2021 to 2028. The segment is expected to be valued at $27.1 Billion by 2028.
The audiobooks segment is expected to grow at a CAGR of 3.5% from 2021 to 2028. The segment is expected to be valued at USD 8.4 billion by 2028.
Based on the regional information, the market is segmented into North America, Europe, Asia-Pacific, Central & South America, Middle East & Africa
North America dominated the market and held the largest revenue share of 32.9% in 2020 owing to the presence of a large number of independent publishers and publishing companies in the region expected to drive the market.
Asia-Pacific is estimated to be the second largest and fastest growing region. The region is dominated by local publishers and the demand for international books is expected to increase. In Asia-Pacific, the market is expected to grow rapidly over the forecast period.
Market share overview:
February 2021: Overall book retail sales changed only slightly in 2020; however, there were huge fluctuations from month to month.
November 2019: November retail sales fell 1.1% from October, but rose 4.1%.
Profile of key companies:
The market is characterized by the presence of several well-established players such as Penguin Random House, Hachette Book Group, HarperCollins, Simon & Schuster, Macmillan and Pearson. These players represent a considerable market share, have diversified product portfolios and have a strong presence across the globe. The impact of major players in the market is quite high as the majority of them have extensive networks across the globe to reach their large customer base.
Some of the key book market players include:
Random penguin house
Hachette Bookstore
HarperCollins Publishers
Simon & Schuster, Inc.
MacMillan Publishers
Pearson
Scholastic, Inc.
WONDER
Morris Publishing
SDI Publication
Order a free sample PDF of the Books Market Intelligence Study, published by Search Grand View.
About Grand View Research
Grand View Research is a full-time market research and consulting firm registered in San Francisco, California. The company offers comprehensive, customized and syndicated market reports based on in-depth data analysis. It also offers consultancy services to business communities and academic institutions and helps them understand the global and business scenario to a great extent. The company operates in a multitude of fields such as chemicals, materials, food and beverages, consumer goods, healthcare and information technology to offer consultancy services.
The Web: https://www.grandviewresearch.com
Media Contact
Company Name: Grand View Research, Inc.
Contact person: Sherry James, Corporate Sales Specialist – US
E-mail: Send an email
Call: 1888202951
Address:Grand View Research, Inc. 201 Spear Street 1100 San Francisco, CA 94105, USA
City: San Francisco
State: California
Country: United States
Website: https://www.grandviewresearch.com/industry-analysis/books-market