Fiction Edition – The Megaphone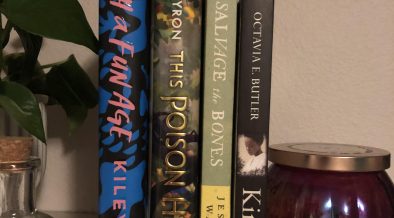 This Black History Month, as I do pretty much every year, I've put together a list of books by Black authors that I'd like to read to celebrate the rich and multiple stories that come from the past, from the present and will continue to write in the future. However, reading books by various authors is a good practice all year round, not just in February. So whether you're interested in the incredible works written by black authors or looking for books to add to your already diverse reading list, here are some book recommendations for you! Books are categorized by genre for convenience.

Science fiction – Kinship by Octavia Butler
This incredible work written by the queen of speculative fiction herself, Octavia Butler, follows Dana, a black woman in the 1970s, as she suddenly finds herself entangled with one of her ancestors… a white ancestor living in the south from before the war, who for some reason can call her through time to save him when his life is in danger. This novel grapples with an embodied experience of intergenerational trauma, the nuances of black body violation, and the disturbing residual traces of anti-blackness that travels to the past reveal about Dana's post-Civil Rights present. Butler's captivating prose draws readers in and unsettles their assumptions about how we are truly connected to the past.
YA Fantasy – This poisoned heart by Kalynn Bayron
Although I have yet to read this book, I have heard countless positive reviews. The main character, Briseis, has the power to grow plants with just a touch. When her aunt dies, she and her family go to visit her estate… and hopefully gain more control over Briseis' powers. Soon, she discovers a deadly legacy of elixirs and poisons and meets a mysterious woman named Marie. Bri must learn to harness her magic to protect herself and her family from dark secrets being uncovered. Plant magic, dark legacies, and it's weird! I miss reading this book.
Realistic Fiction – Such a fun age by Kiley Reid
This is another book that I haven't read yet but have seen all over Bookstagram and BookTok (which are both great – and addicting – places to find book recommendations). Reid's novel follows the divergence in the lives of Alix Chamberlain and Emira Tucker, one a successful businesswoman and the other her child's babysitter. When Emira, accompanying Alix's white child to a supermarket at night, is framed for kidnapping, the relationship between the women becomes complicated as they face challenges about what they know about themselves and the each other. This book delves into topics related to starting a family, interracial dynamics, and being an adult. As someone in transition to adulthood and a white reader, I hope to laugh, cry, and learn with these two women as they navigate through life.
Climate fiction – Collect the bones by Jesmyn Ward
Much of Jesmyn Ward's writings focus on blackness in the American South – the communal legacies, the complicated and fiercely-knit families, the disproportionate violence inflicted on black people in this country – and this book is no exception. I was first introduced to Ward when I read Sing, without burial, sing, another one of his novels (which I would also highly recommend), and was immediately captivated by the poetics of his writing style which makes room for both deep love and discomfort. Collect the bones is a Hurricane Katrina novel, but it focuses on the main character, Esch, and his family. Much of the book illustrates the dynamic relationships and general way of life of the characters, which makes the arrival and sheer devastation of Katrina all the more shocking. The novel's character-centrism disrupts many of the (whitewashed) narratives that surround Katrina and provides a moving and painful account of what it really means to be a black family living in the aftermath of climate catastrophe.