Newport author's latest two picture books explore historical subjects many of us didn't learn about in school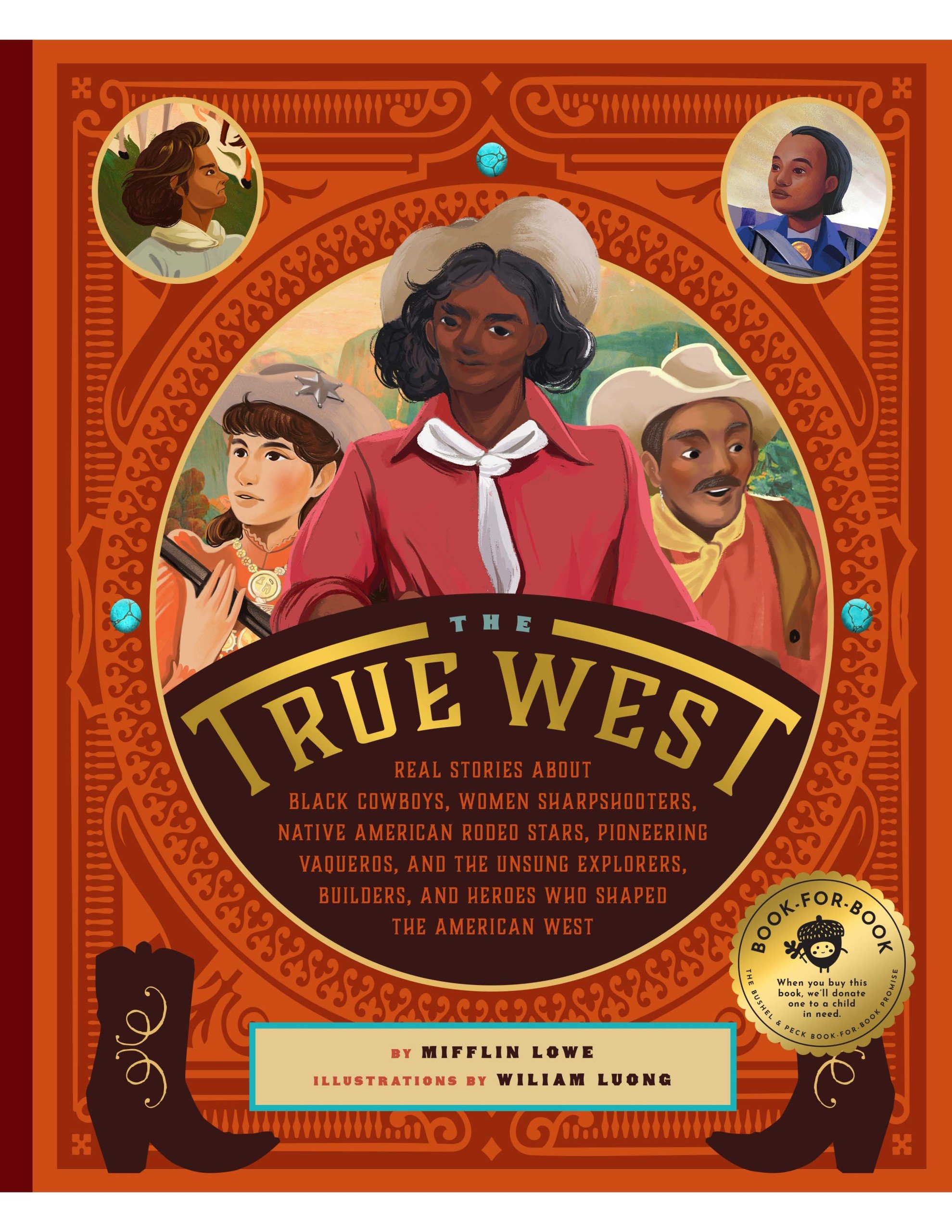 It's been a great two years for Newport-based author Mifflin Lowe — a statement that might sound a bit foreign amid our pandemic-induced new reality. Since 2020, he has published not one, not two, not three, but four wonderfully acclaimed books (both by critics and readers) with two excellent publishers: Forgotten Founders; Dad: the man, the myth, the legend; the real west; and The book of hugs.
Believe it or not, however, the pandemic played no role in its momentum.
"I'm a writer, aren't I? I go in and sit at a desk, and I write. That's what I do all day. I don't need to go out and meet people, so the pandemic hasn't affected my daily life," he says. "What really sums up my recent success is persistence."
It all started with a story he wrote in 2000 called Cowboy Howie.
"It's about a young black man from New York who wants to be a cowboy. He looks at all the skyscrapers and reinvents them like the Grand Canyon, dogs become wolves and pigeons become eagles", says- "At the time, people were like, 'Well, black people don't buy books and nobody buys books about black people.' For real, they said that. I even had a deal with a movie company, and they said, 'Does it have to be black?' I said, 'That's the story.' They said, 'Well, does he have to be the main character?' I told them, 'It's the Fonz…you can't have Happy Days without the Fonz!' »
The company returned the rights to him, but Lowe wasn't worried: he had sold it quickly once only to sell it quickly again.
He did not do it. Instead, he spent the next fifteen years navigating history between finding success with other works, including The stingy handbook 2.0 and Small dog, big bark. Lowe eventually decided to make an animated film out of it, and when he decided to become a snowbird and split his time between Rhode Island and Florida, he chose Sarasota for its proximity to Ringling College of Art. and Design. Although the film has yet to come to fruition, he did end up connecting with a recent graduate, Martina Crepulja, to illustrate the story for print. He self-published Cowboy Howie in 2018.
Around the same time, Lowe again found himself working with Familythe sound editor stingy manual, switch off The book of hugs, an adorable picture book as it sounds. He brought up Cowboy Howie again, thinking it could be updated and republished, but then-art director David Miles had another idea.
"I used to go to different schools and talk about black cowboys and stuff, and he said, 'Well, that's interesting, why don't you do a story about the true west?' I said okay, we'll do a non-fiction version [of Cowboy Howie]."
Miles then set up his own publishing house, Bushel and Peck bookssoon after, and Lowe followed him.
"He's a great guy and we got on really well," he said. "Plus, they do great things: for every book they sell, they donate a book to an underserved community."
the real west was released with Bushel and Peck in June 2020 and features the true stories of black cowboys, female snipers, Native American rodeo stars, and lesser-known historical figures from the American West. It has since been named a Notable Social Studies Book by the Children's Book Council and the National Council for Social Studies and has received rave reviews from List of books and the School library journal.
Building on this success, Miles then commissioned Lowe to complete another children's title called Dad: the man, the myth, the legend. The fun story was released in May 2021 and depicts a father who not only handles, but overcomes just about every obstacle parenthood throws at him – all with a smile on his face. It received positive reviews from Kirkus, appeared on the cover of Publisher's Weekly, and was even translated for the enjoyment of French, Italian, and Polish readers.
And came Forgotten founders.
"If you do a good job for someone, they'll probably want you to do something again," says Lowe.
Freshly released earlier this summer, Forgotten Founders is similar to the real west in that it spotlights people we often don't hear much about in our textbooks, but who have had as much of an impact on history as, if not more than, the household names we know.
"It's about women and people of color in the Revolutionary War," Lowe says. "There is a chapter on the 1st Rhode Island Regiment, which was half black. It was a significant step forward for the time. These guys were very good and valiant soldiers who worked together to defend Newport and later participated in the siege of Yorktown.
Lowe admits, however, that he finds the women to be the most fascinating people in the book.
"Because if you're a soldier guy, [the history goes] Either you shoot someone or someone shoots you. But with women, they were spies and poets and all kinds of interesting things. One of my most interesting characters in this whole book is Sybil Ludington, a fifteen-year-old girl who did what Paul Revere was supposed to do. She traveled forty miles at night from New York State to CT to warn the Patriots of a British advance. Revere didn't even make it to Concord; he was one of three guys from Massachusetts and the other two went much further than him. [Sybil] was the real hero.
Another woman featured in the book is Deborah Sampson, who enlisted in the war under the guise of a man in hopes of earning the promised financial benefits.
"She walked in and in a battle she was shot with two musket balls. She went out into the woods on her own and dug them up with a penknife. Imagine the courage it would take to do that," he said.
And that's just a small taste of what you can find in Forgotten Founders; it was named a 2022 Junior Library Guild Gold Pick and claimed a spot on the Children's Book Council's 'Hot Off the Press List' for good reason.
With two of Lowe's most recent hits being fiction and the other two non-fiction, we wanted to know if he approaches writing differently for each genre?
"That's an interesting question…. Yes, the process is different," he says. "With non-fiction, you usually know how much space you have and how many words. And then you have to fill that space and tell the story in a way that's simple, but also hopefully interesting. You have need good intros and thematic phrases and all that. But then for something like the Cuddle Book, there is a bit of style that goes into it. It's more creative: "Oh, isn't it nice to snuggle up and snuggle up and melt inside like a big muddy puddle." I just got into it. For me, this book is sort of my combination of Dr. Seuss and EE Cummings.
As a kid growing up in Philadelphia, Lowe always had a knack for writing. So much so, in fact, that his seventh-grade teacher once accused him of asking his mother, who had studied English, to write his paper for him. He identifies this meeting as the moment when he knew he was a writer. Yet when he later attended Princeton University, Lowe found he had little interest in the 18th-century literature taught by the English department, and instead chose to study English. history of art – which he jokingly calls a dumb move – before graduating and working in advertising.
"But you know what, I had to write a forty page article when I was a senior and it served me well in publicity because then when a brochure came it was nothing. I could handle that easily. So it was good training in that regard," he recalls.
His early career took him to Los Angeles, then Boston, then finally to an advertising agency in Rhode Island (fun fact: the Ocean State was once a major hub for the advertising industry). At one point, Lowe even owned his own music company where he created jingles for TJ Maxx and other companies. It's clear that all of these roles impacted his writing career in one way or another, from refining his writing skills to crafting narratives with a lyrical quality to finding the perfect outlet between art and history in his non-fiction stories. His lifelong appreciation for art led him to work with talented illustrators like Dani Torrent to Dad: the man, the myth, the legend and William Luong for the real west and Forgotten Founders.
"Picture books are called picture books for a reason. They need good art to attract people," he says.
And there are other projects in the works. Lowe is currently doing the background for a new book on immigrants. Another non-fiction title, the book would explore the stories of different people who immigrated to what is now known as the United States, starting with the first Americans, aka Native Americans.
"They came through the load-bearing land bridge 16,000 years ago. And the sea level at that time was 300 feet lower than it is now. Isn't that amazing?" he said.
It is also planned to possibly extend the real west with a documentary television series.
"If it all works out, Grammy-winning Dom Flemons would be the host and he would be like Mr. Rogers, interacting with the kids and telling them stories about black cowboys like Bill Pickett." Lowe teases. "But they're still throwing it, so we'll see!"
If you want to check out Mifflin Lowe's most recent works in the meantime, you can find them at Bushel and Peck Books' websiteor on Amazon at the following links: Forgotten Founders; Dad: the man, the myth, the legend; The true west; and The book of hugs.