The Unity Books bestseller chart for the week ending July 29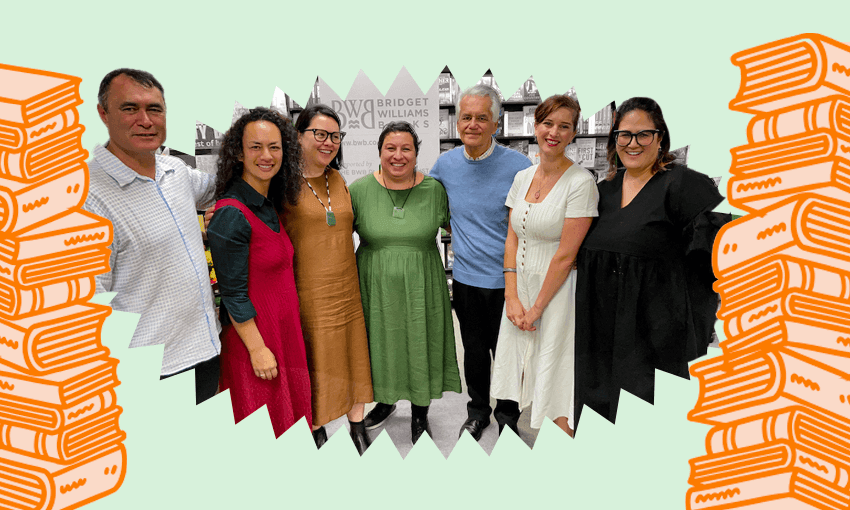 The only best-selling independent books chart published and available in New Zealand is the Top 10 list recorded each week at Unity Books stores in High St, Auckland and Willis St, Wellington.
AUCKLAND
1 Blue Blood by Andrea Vance (Harper Collins, $37)
A cornucopia of coverage is available to you right here Spinoff: a special edition of the Gone by Lunchtime podcast; a written review (by Toby Manhire) of the same; an extract.
2 Lapland by Ottessa Moshfegh (Jonathon Cape, $35)
"Ungodly manipulative mind world! 🙏🏽" – Zoe on Goodreads
"captivating, haunting, primitive" – etherealacademia on Goodreads
"It's been several weeks since I finished it. Let me say:
Genuis, genie girls love Moshfegh. The Moshfegh girls are the most unbalanced girls in the coop. I love you. You love Me. We like Moshfegh, la-di-de-da, la-de-da, la-de-da, la-de-da. Moshfegh queens are Moshfegh demons. And Moshfegh's demons get the greens. So read your Moshfegh, and you'll be wild. Mhhhmm, I love Moshfegh. GOODBYE." – Jackson Basham on Goodreads
3 The Promise by Damon Galgut (Arrow Books, $26)
The New York Times begins its very positive review thus:
"For three decades, South African writer Damon Galgut has assessed his country through the scrutiny of its whites. His previous novels include Booker Prize runner-up The Good Doctor, set in a clinic in one of apartheid's desolate 'homelands', and The Impostor, the tale of an exiled poet in the lonely countryside. Galgut's new work, The Promise, studies the Swart family, descendants of Voortrekker settlers, clinging to their farm amid tumultuous social and political change – "just an ordinary group of white South Africans", he writes, "holding good, hold on". "
4 Atomic Habits by James Clear (Random House, $40)
Instead of a biography on Penguin's website, Clear has a bunch of numbers:
"James Clear is an expert in habits and decision-making. He made a name for himself as the author of one of the fastest growing electronic newsletters in history, which went from zero to 100,000 subscribers in less than two years. Today, its newsletter has over 400,000 subscribers and its articles on jamesclear.com receive 10 million hits each year. His work appears frequently in publications such as The New York Times, Forbes and Business Insider.
5 Kurangaituku by Whiti Hereaka (Huia, $35)
A warm welcome to Kura, who has been off these lists for a while awaiting a reprint.
6 The Invisible Child: Poverty, Survival, and Hope in an American City by Andrea Elliott (Hutchinson, $40)
For eight years, a New York Times reporter has followed a young girl growing up in poverty in Brooklyn. She just won a Pulitzer for that. Here is an exerpt :
"Even the name Dasani speaks of a certain range. Bottled water had arrived in Brooklyn bodegas just before he was born, catching the envy of his mother, who could not afford such indulgences. Who paid for the bottled water? Just the sound of it – Dasani – evoked another life […] Dasani shares a twin mattress with her closest sister, Avianna, whose name was inspired by the Pricer Evian water brand.
7 Book of Form and Void by Ruth Ozeki (Text, $40)
Blurb, in part: "A year after the death of his beloved musician father, 13-year-old Benny Oh is starting to hear voices. The voices belong to things in his house – a sneaker, a broken Christmas ornament, a piece of wilted lettuce. Although Benny doesn't understand what these things are saying, he can sense their emotional tone; some are pleasant, a soft buzz or coo, but others are snarky, angry, and full of pain.
8 Circe by Madeline Miller (Bloomsbury, $22)
The BookTok-led resurgence continues.
9 Klara And The Sun by Kazuo Ishiguro (Picador, $23)
The Booker Prize Committee, on Ishiguro's long list: "What you're left with in 'Klara and the Sun' is the haunting narrative voice – a genuinely innocent, egoless perspective on the strange behavior of obsessed humans and wounded by power, status and fear."
10 A Tangled Life by Merlin Sheldrake (Penguin, $24)
Look closely at the mushrooms, writes the Guardian reviewer of this non-fiction 2020 hit, and you're hit with "big troubling questions".
"Merlin Sheldrake, a mycologist who studies underground fungal networks, easily takes us through these questions with passion and precision. Her fascination with mushrooms dates back to her childhood. He loves their colors, weird shapes, intense smells, and amazing abilities, and takes pride in the way this once-old-fashioned academic realm challenges some of our deepest assumptions. Entangled Life is a book about how life forms continually interpenetrate and change. It oscillates smoothly between stories, scientific descriptions and philosophical questions. He quotes Prince and Tom Waits.
WELLINGTON
1 Imagining decolonization by Rebecca Kiddle, Bianca Elkington, Moana Jackson, Ocean Ripeka Mercier, Mike Ross, Jennie Smeaton and Amanda Thomas (Bridget Williams Books, $15)
Congratulations to the team.
2 Tourbillon, Tourbillon by Kate DeGoldi (Allen & Unwin, $30)
According to the presentation text, a work of art in itself:
"Eddy Smallbone (orphan) grapples with identity, love, loss and religion. It's been two years since he blew up his school life and earthquakes tore his town down. Life home is maddening. Her pet-sitting work is developing in particular directions. And now, the past and the future are calling out to us — in an unexpected form.
As Eddy navigates his way through suburban Christchurch until Christmas, juggling competing responsibilities and an increasingly noisy inner world, he comes ever closer to an overdue personal settlement.
3 You probably think this song is about you by Kate Camp (Te Herenga Waka University Press, $35)
"Most people who do IVF don't get pregnant, but you don't hear much about it. Every story you hear is about how awful it was, how hard it was, how the embryos died and the sperm wasn't viable and the relationship was strained and then, and then it happened , and here they are, with their miracle baby, their miraculous family. I never understood the true meaning of love until I had children. It's something people say all the time. And I still think Yeah, fuck you too."
4 Aroha: Maori wisdom for a contented life lived in harmony with our planet by Hinemoa Elder (Penguin, $30)
Elder has a second book coming in October, that is, in your stocking stuffer. Wawata, Penguin promises, "shows us how to regain intimacy with others, with ourselves, and with our planet, using the energies of Hina, the Maori moon."
5 chemistry lessons by Bonnie Garmus (Doubleday, $37)
The Guardian, delighted:

"Every once in a while a first novel pops up in a flurry of hot TV offerings and big names, and before the first chapter is over, you do a little punch because for once everything is completely justified. . Lessons in Chemistry, by former editor Bonnie Garmus, is that rare beast; a polished, funny and thought-provoking story, carrying its research lightly but confidently, and with sentences so elegantly twisted it's hard to believe it's a start.
6 Architecture of Wellington: A Walking Guide by John Walsh and Patrick Reynolds (Massey University Press, $25)
Left foot, right foot…
7 Big: Becoming My Mother's Daughter by Noelle McCarthy (Penguin, $35)
"She wonders how none of her colleagues noticed how messy she was; well, they would have, but you can make up for a lot with a cadence and a laugh and a Miss Crabb wardrobe. Also: drug addicts lie" – we, in a heavy criticism of Dracula sometime ago.
8 Lapland by Ottessa Moshfegh (Jonathan Cape, $35)
9 Horse by Geraldine Brooks (Hachette, $38)
A novel about, you'll never guess…
10 Regenesis: how to feed the world without devouring the planet by George Monbiot (Allen Lane, $37)
Does this placement have anything to do with the fact that we loved Regenesis in our last book report? Maybe! "Science that reads like hope", we said.