Unity Books' July Best-Selling Children's Chart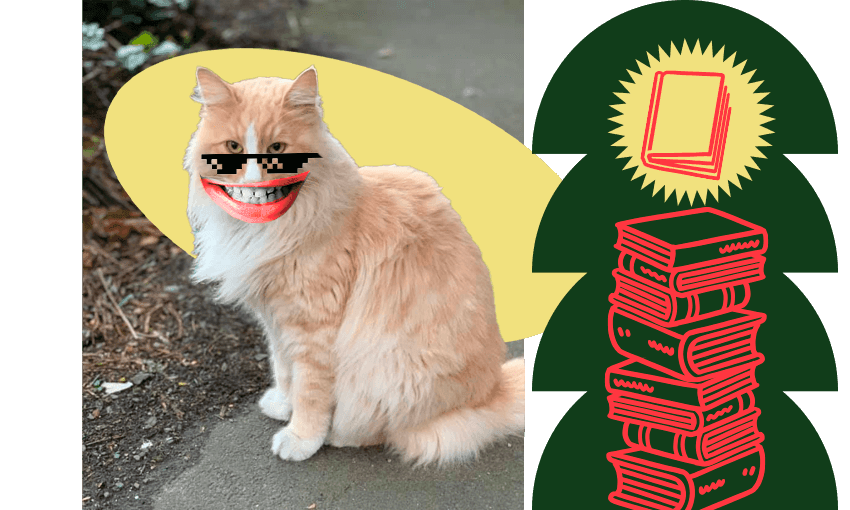 What's the best way to get adults to read? Get them reading when they're kids – and there's no better place to start than Unity's best-selling children's books.
AUCKLAND
1 Big Ideas for Inquiring Minds: An Introduction to Philosophy by Alain de Botton and Anna Doherty (Affirm Press, $40, 8+)
They say:
"Children are, in many ways, born philosophers. Without prompting, they ask some of the most important questions: about time, mortality, happiness, and the meaning of it all. Unfortunately, too often this innate curiosity is not developed and as they grow up the questions disappear.
We say: Parents of Tāmaki Makaurau, assume the position of the embrace – the questions are about to level up.
2 The noisy book by Bravi Soledad (Gecko Press, $25, 0-2)
A beautifully crafted and, in fact, perfectly silent board book.
3 A group of stars, a group of stories: Matariki around the world by Rangi Matamua and Isobel Joy Te Aho-White (Scholastic, $35, 7+)
This year has brought a crop of splendid new Matariki children's books – if we could only buy one, this would be it.
4 My first pop-up dinosaurs by Owen Davy (Walker Books, $23, 4+)
Are there beta tests for pop-ups? If so, we want to participate. There's nothing happier than watching a child gasp on every page.
5 Where is it? Kiwi Kids Wildlife Hunt by Ned Barraud (Potton & Burton, $20, 4+)
We highly recommend this new paperback book, especially for kids who love factual books and spotting things in pictures. Here they can search for ancient Aotearoa forest, wetland, estuary, beach, and more modern forest. Cool critters abound. Ideal price for birthday gifts too. Click on here for a peek inside.
6 In the back of the chair by Margaret Mahy and Polly Dunbar (Frances Lincoln, $15, 0-5)
Dad's keys are missing. The toddler knows where to look – but what else is hiding in this chair?
seven 1 to 20 animals in abundance by Katie Viggers (Lawrence King, $25, 3+)
A beautifully made counting book. "From dogs that have frogs and snakes that like to eat cake to gorillas that look at mirrors and llamas in pajamas!"
8 Inside New Zealand Wildlife by Dave Gunson (Bateman, $25, 7+)
"What does an insect's eye actually see? Does an earthworm have "guts"? Does the flightless kiwi have wings under all those feathers? Author and illustrator Dave Gunson dives deep into some of our best-known species to see what's really going on there and to find out how our native creatures work! »
9 Animal Best Friends: Even animals have best friends! by Sophie Corrigan (Frances Lincoln, $28, 3+)
It's a big book about symbiosis, introducing different animal pairs via a facts page, then a comics + jokes page. Avoid if you're not into anthropomorphism with your animal facts.
10 The Crane Guy by Sally Sutton and Sarah Wilkins (Picture Puffin, $20, 2-5)
That rare combo of perfect words and perfect pictures. Recommended.
WELLINGTON
1 Mittens Adventures: Wellington's Famous Sound by Silvio Bruinsma, illustrated by Phoebe Morris (Penguin, $20, 3+)
To yell!
2 A Good Girl's Killing Guide by Holly Jackson (Hardie Grant Books, $23, 10+)
Pelumi, on Goodreads:
"I haven't seen a good mystery book like this since DAN BROWN!!!
OUT OF FIVE
ACTUAL SCORE: 5
INTENSITY: 5
CHARACTERS: 4
GROUND: 4.4
TORSO: 10″
3 Solitaires by Alice Oseman (HarperCollins, $30, ages 13+)
Author's disclaimer: "Solitaire is a story of mental illness told by an unreliable narrator. The presentation of mental illness in this story is at times sensational, underexplained, and may be detrimental to readers who have suffered from mental illness. Please read safely and responsibly.
Please also note that Solitaire is a much darker, more graphic, and serious book than the Heartstopper series, and may not be suitable for all readers who have enjoyed Heartstopper.
Alice made editorial changes to Solitaire in August 2020. The edited edition has an author's note at the beginning of the book.
Learn more, including specific content warnings, here.
4 The princess of the lighthouse by Susan Wardell and Rose Northey (Puffins, $20, 2+)
So so so so so so good. Beautiful and feminist and poetic.
5 A group of stars, a group of stories: Matariki around the world written by Rangi Matamua and Miriama Kamo, illustrated by Isobel Joy Te Aho-White (Scholastic, $35, 7+)
6 Heart stroke Volume 1 by Alice Oseman (Hachette, $28, ages 12 and up)
Because Netflix.
seven one of us is lying by Karen McManus (Puffins, $21, 14+)
Because Netflix.
8 Count Creatures by Julia Donaldson and Sharon King-Chai (Two Hoots, $25, 3-5)
Think of the best book on flaps you've seen and now think of the best words to use. This is what you end up with.
9 Big emotions for little people by Rebekah Lipp and Craig Phillips (Wildling Books, $19, 2+)
I haven't seen this one, but we totally agree with Wildling in general – they come out with great book after great book to help kids understand their emotions.
ten Heart stroke Alice Oseman's Volume Two (Hachette, $28, ages 12+)
Netflix, again.